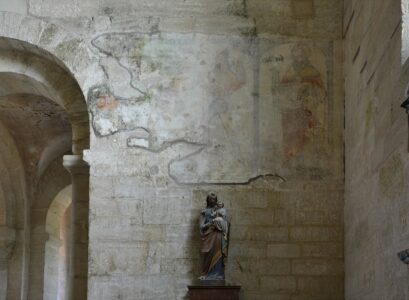 The transept is short. On one side, it must have given access to ancient convent buildings (of which there are no traces) and on the other, it gave access to a stairway up to the towers and the covered walkway of the raised, fortified part.
At each end, the staircases give access to the crypt.
The Ancients used to say that telluric vibrations are best perceived in the floor of the transept: those sensitive to such sensations can feel prickling in their feet and legs. The location of churches, including the one in Mont, is said to be chosen on telluric lines for the energy given off, which is thought to have inspired the priests…
In the transept floor, there are the burial sites of two priests. The stone slabs covering the 18th century tombs bear inscriptions in Old French and in Latin.
In the north arm of the transept, one can make out the outline of a disused door: it could be the old access to convent buildings or one of the "grave yard doors" that opened onto the cemetery.