The Church of the Assumption of Our Lady was built in the 12th century, in the foothills of the Argonne region, on the site of an ancient sanctuary, which itself was probably built on the site of a Celtic oratory.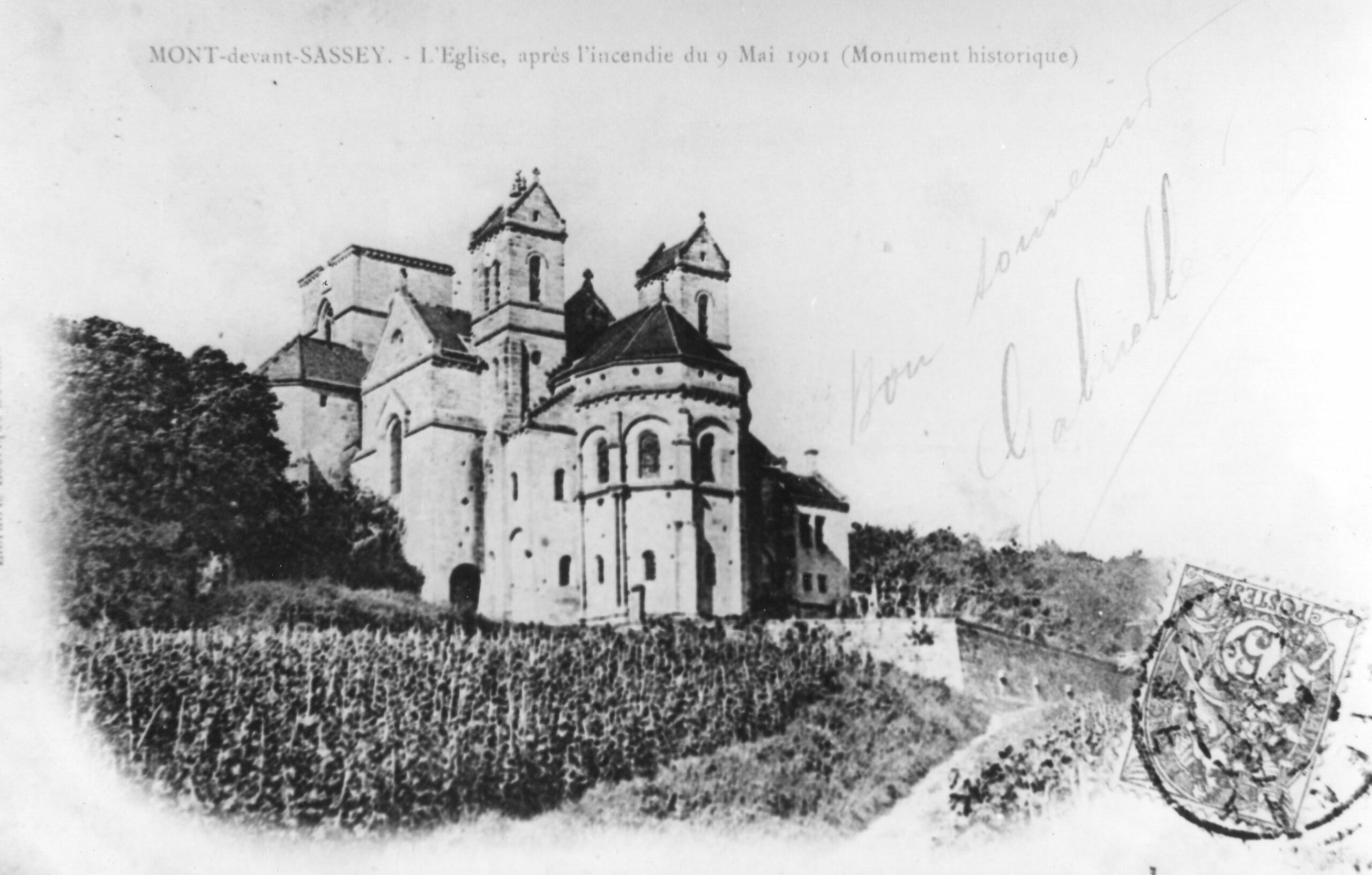 There is little trustworthy documentation available on the thousand year history of the building, but there is a bit of evidence of its existence since the 7th century. It is said that Pepin of Landen, Charlemagne's great-grandfather, ordered the building of the church. Pepin had several children, including two daughters, St. Gertrude and St. Begge. St. Gertrude initiated the construction of the collegial church of Nivelles in Belgium, while St. Begge founded a monastery in Belgium in 682, in Andenne on the banks of the Meuse River, which was destroyed in 883 by the Normans, then pillaged and reduced to ashes in 1059. As a result, the nuns, known as the Cannonesses of Andenne, took shelter on a property they owned in the area of Mont-Devant-Sassey, where they established a small convent at the beginning of the 11th century and then began the building of the church in 1127. The main street of the village of Mont-Devant-Sassey is still called the "Rue d'Andenne".
The church was built in the shape of a basilica, with three naves and a short transept. The plan of this church was inspired by that of the primitive church in Andenne. The crypt, the apse and the eastern transept were built in the 12th century according to the floor plan of the cathedral of Verdun. The north and the south aisles, where the portal opens, were built in the 13th century; the western bell tower was constructed in the 15th century. In the 17th century, the church was badly damaged as a result of the Thirty Years War and the French civil war, the Fronde (1650-1653). These troubled times made it necessary to fortify the edifice, by building the walls of the north aisle and the apse higher.
The Church of Our Lady was besieged and burned in 1660. Later, it was remodeled : a covered Renaissance porch was rebuilt in 1754, the windows of the transept were enlarged, and the bell tower was remodeled several times.