The nave leads to the Romanesque choir. It is rectangular, with only one bay. It is surmounted by a barrel vault, and ends in a five-sided apse that is covered by a semi-spherical vault.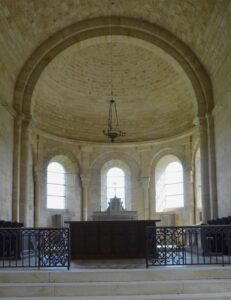 Each of the five bays is pierced with a large arched window, under an archway supported by several smaller half columns placed at angles. Each half column is extended by a small pilaster rising up to the string course, the starting point of the vault, which is in the shape of a hemisphere. This decor is the same as that in several other apses in Lorraine.
The apse has not always looked this way.
It was restored and transformed in the 19th century by Narcisse-Casimir Lenfant in a way . The architect accentuated the similarities with the cathedrals of Verdun, Trier, and Reims by modifying the apsidal, adding two towers to the exterior, raising the choir, and, in the interior, by adding half columns in the Roman style which create a unity of the five bays but which is not recorded on any previous plans.
If you look back to contemplate the nave, and if you are standing in the middle of the apse behind the altar, you'll be surprised to notice that the apse and the nave have not been built along the same axis. Legend says that the builders realized the choir, had been built before the nave, was not exactly facing east as it should have been. It is believed that they rectified the orientation of the building, which now has an angle at the level of the transept.
The sculpted wooden choir stalls have been beautifully made, but they also have sentimental value because of the marks in the wood made by choirboys over the years, especially during troubled periods in history : you can still read the phrases, "Down with collaborators" and " Long live Roosevelt," carved into the stalls, which may not be romantic but nevertheless bear witness to mankind's history.