The two separate staircases which lead to the crypt allowed the faithful and pilgrims to descend via one staircase and ascend via the other.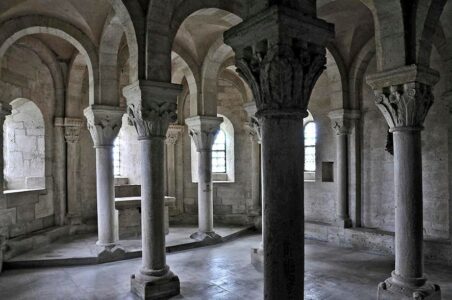 The crypt is truly remarkable because of the opening that allows daylight in, which is extremely rare: this is the result of the building's situation on a slope.
It is a replica of the crypt in the cathedral of Verdun and of the eastern choir of the cathedral of Trier. Three bays are separated by single monolithic columns, columns which have been carved from a single block of stone. These columns are decorated with wide capitals, sculpted with stylized leaves and topped by raised, semi-circular arches, which is also very exceptional.
A single capital, to the right of the altar, is a story: one can make out winged figures perhaps pressing grapes, in a very naïf and symbolic style (they are like those on the old capitals in the crypt of the cathedral of Verdun).
The crypt used to contain a polychromatic wooden statue of a seated Virgin Mary dating back to the 12th century. The original is now in the Prince's Museum in Verdun to protect it from thieves.
You can admire a copy of the statue, which is standing on the stone altar. The architectural style is very rigid, which makes the typical very rigid, which makes the typical mistakes of sculptors of this period quite obvious. An amusing example is that the clumsily carved features of the Virgin Mary make her look, unintentionally, a little like the former President, Francois Mitterand!!